The world's best glazed donut
lives on State Street.
A Hidden Gem in SLC
Fresh Donuts & Deli (FD&D), a local Salt Lake City (SLC) donut shop (located on 2699 S State St.) is passed by daily by thousands of SLC natives commuting on State Street. What many of these passerby don't know, is that this outdated, little shop holds some of the world's greatest donuts. It's time the lovely people of Utah learn what's hiding inside of the often ignored, little shop.
It's Time the World Knew About "Fresh Donut & Deli's" Secret
State Street is jam packed with a variety businesses, storefronts, and restaurants. Driving up and down this street, it seems that some shops stick out, while others get lost among the crowd. I was challenged with creating an illustrative advertisement that would stand out to a passerby, and do justice to FD&D and their delicious donuts.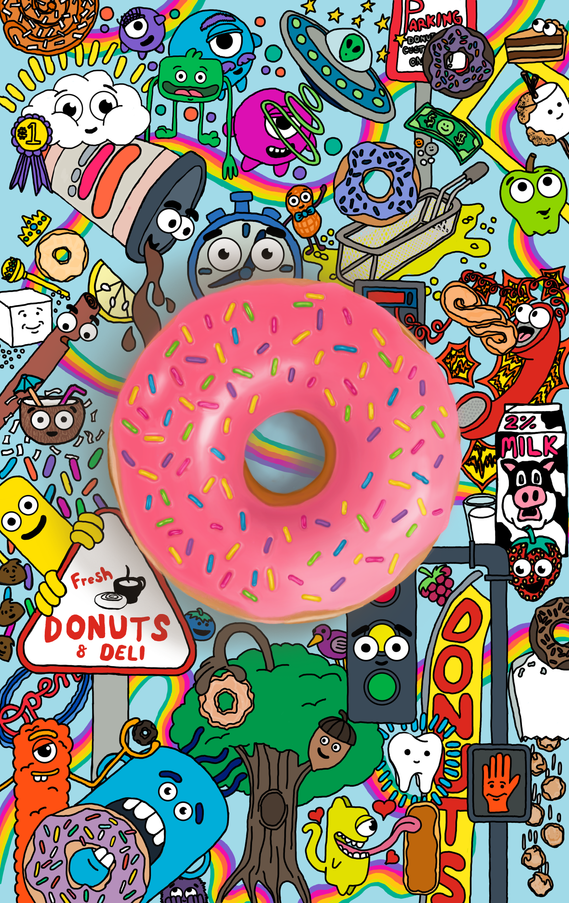 Solution
Playing with the idea of the overwhelmingly packed mess that State Street can often feel, I wanted an illustration that would be wildly overwhelming to the eye. With a variety of imagery representing FD&D's storefront and their donuts, the viewer can get lost looking at each drawing. However, at the center sits a delectable donut, asking the viewer to reconsider what really is the best thing on the poster.